Distribution planning and stock assignment
The DRP is a supply chain business process, which enables to anticipate the goods supply to the distribution centers, to the customers 'platforms (collaborative planning) over the whole horizon. It also helps to prioritize the stocks distribution in the short term. Finally, it is one of the entry points to the MPS (refer to our MPS brochure) because it provides production with a plan of accurate needs.
Our preconfigured DRP solution sticks to the APICS concepts. This ensures consistency between solution and process, while maintaining a flexible, simple and ergonomic interface.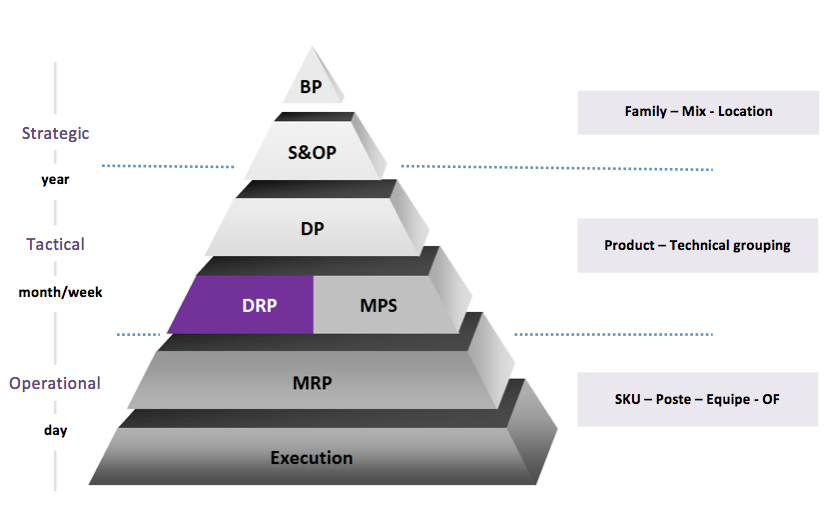 DRP: Requirement planning

Based on the sales forecasts, open orders and dependent requirements, the DRP is calculated with APO-SNP using the calculation called "Heuristic" (MRP Logic)…

Stocks deployment

On top of the distribution scheduling, the DRP, combined with the MPS in our solution, calculates the best optimized stock assignment…
Transportation build

Based on planing and deployment, the transportation build allows you to optimize the load construction, by mean of weight, volume and palet number. You fill up truck/containers/etc.. to the best of economical metrics.

Management by exception

Stock management tool thanks to the Alert Monitor: You can easily identify the stockout and / or the excess inventory. Thus you take the best decision to deploy more accurately the stock.  Get your distribution flow optimized!